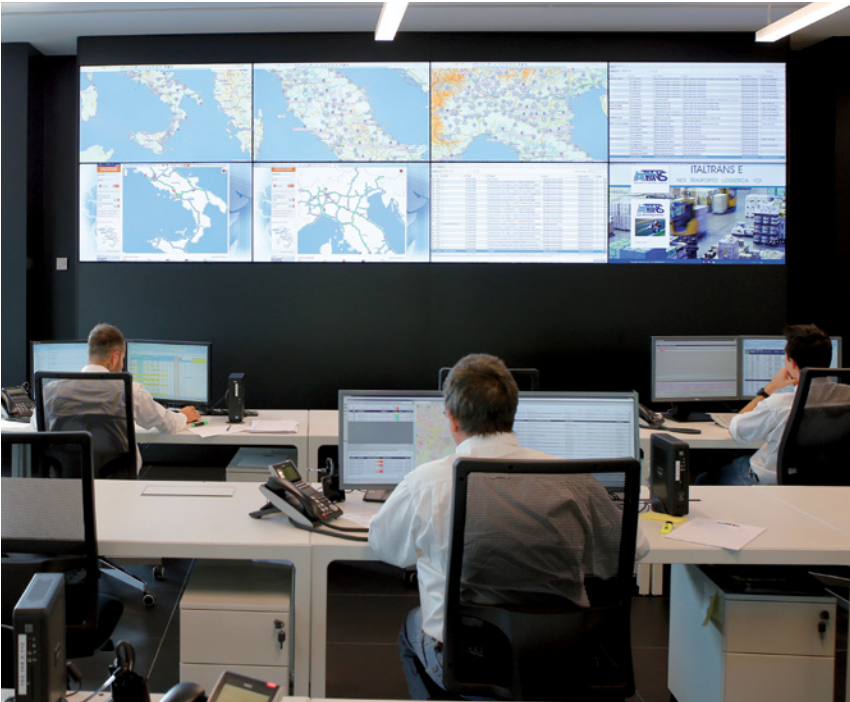 The Control Room of the newest location of Italtrans has two Sharp's videowall realized with twelve monitors PN-V601 with 60", due to monitor with efficacy the machinery management.
Last year the new location built in Italtrans Calcinate branch was inaugurated. Here you can find the Control Room and the transports office for the management of all the means of transport, over than 700, that transit daily on the national net of delivery items. Two videowalls monitor the traffic situation in real time, eventual assistance requests for breakdowns and problems or moreover the screening revisions of mean of transport.
The Control Room is divided into two separate areas: the direction, where work the traffic operators, has the 4×2 videowall made of 8 monitors PN-V601 of 60" and the complemental one, smaller, where the trainers are active; here there's a 1×4 videowall composed of 4 monitor PN-V601 of 60". In the direction room you can find a predisposed staff that manage the control of traffic, with direct control with the driver; each mean of transport has a satellite system with the purpose of manage travel communication and the related information.