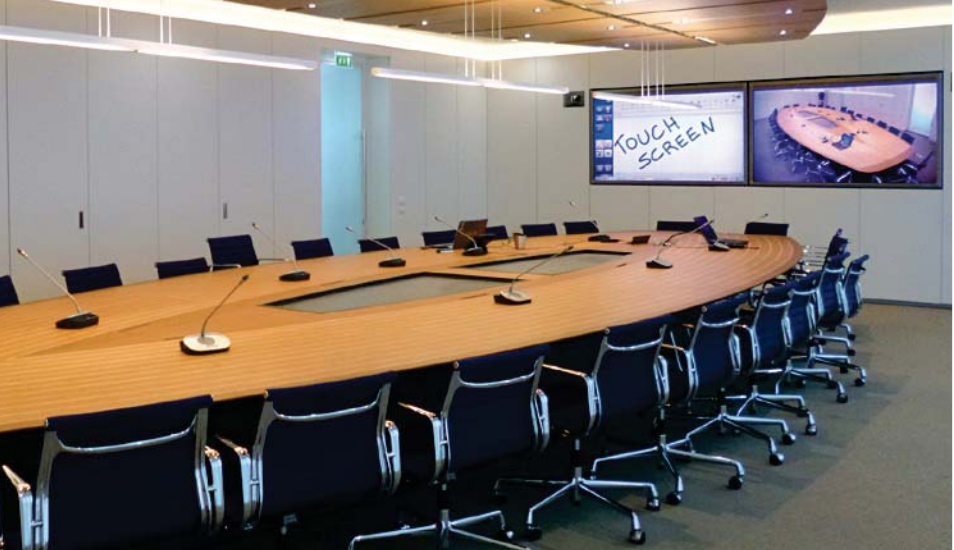 n the new location of Pioneer Investments, at Unicredit's Tower in Milan, was set up in the council Room provided with sophisticated AV technologies. The visualization is done with two monitors Touch Sharp with 80".
"We have predicted a wireless system for the Audioconferences – said Alessandro Vella, responsible of the project – able to manage maximum 20 participants, disposed around a table that is 8,5 m long.
The microphones allow the auto -punctuation of two cameras connected with the videoconference system to the person who is talking. Due to guarantee a comfortable view to each participant from every spot of the table, we chose two monitors Sharp touch-screen. With 800 inches, connected in cascade. A choice to guarantee to the participants the opportunity to follow the presentation step-by-step even when a relator, operating in front of a monitor touch-screen, partially covers the images view: thanks to the second monitor the participants cannot lose one passage of the relation." The Council Room has been provided of an automation system that manage enlightenment and curtains, controlled by a pre-constructed scenery that changes in relation with the chosen layout. On the back, a directing area with monitor touch has been completed, accomplished with a Unit Clickshare Base and an AV registration system, due to support peculiar events. The registration can be published on the company website and/or distributed I the local net and seen on selected PCs.